First many thanks to my Son James, KC3BNH now AJ3JA, for the redesign of the site.

About KA3PMW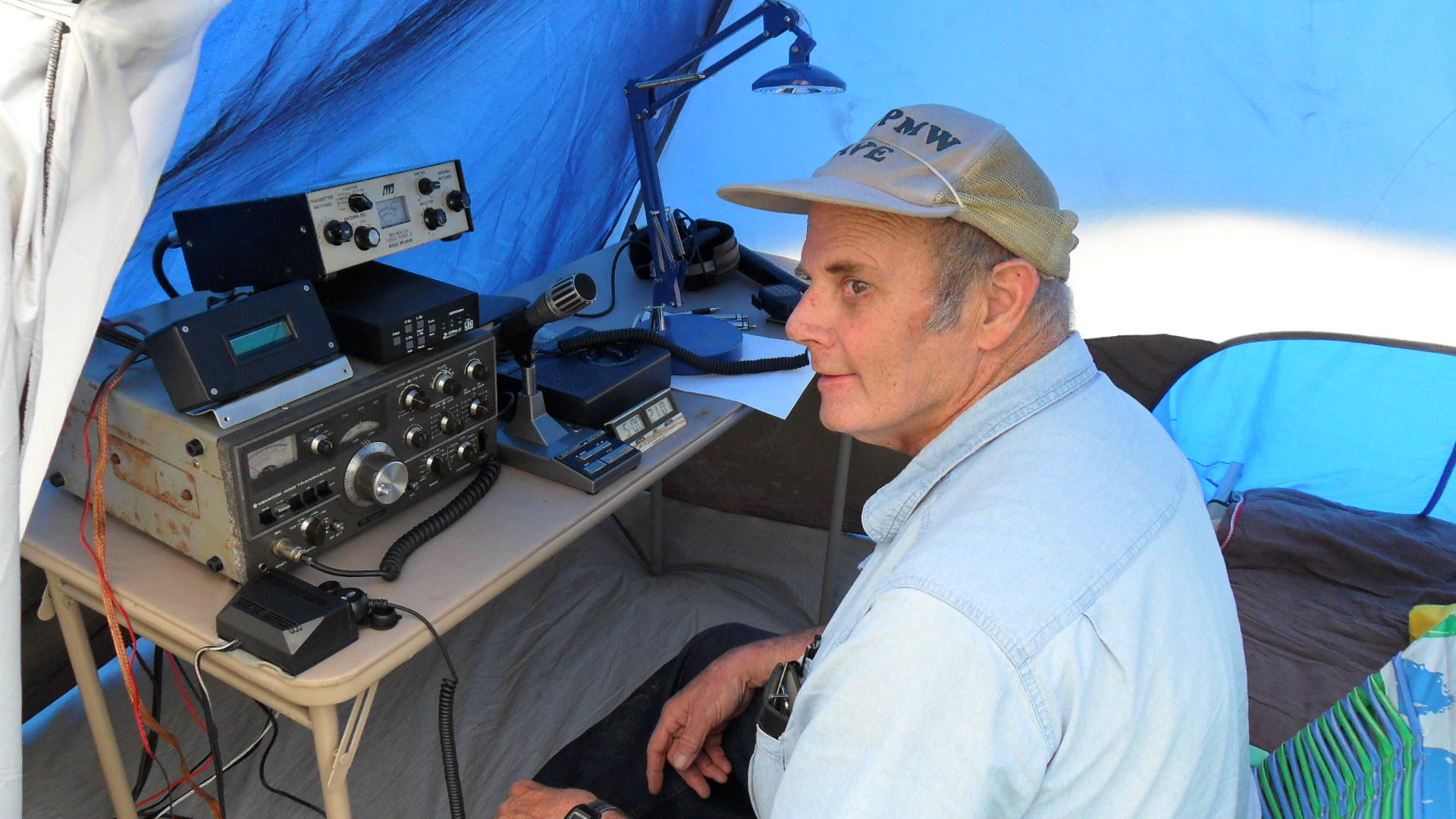 .

When a friend invited me to Field Day at the Washington County Fair Grounds in Washington PA I was intrigued with the wire antennas hung from the various shelters and from the poles. I was also fascinated with the rigs, Hammarlund, Hallicrafter, Heath Kit, Collins and a few others that were there.

I went home and listened to them on an old Philco short wave receiver we had. I also wrote to the FCC to find out how to go about getting a license.

When I got the answer back, it said I had to take a test that consisted of drawing a block diagram of a transmitter and a receiver (in those days they were separate radios) and a schematic diagram of both. Upon successful completion of that and the rest of the test, along with passing the code test (I forget what the speed was in those days), I would be granted a temporary license good for one year during which I had to upgrade or lose it.

I thought this was beyond my level of expertise and at the ripe old age of 12 moved on to other things.


In 1985 I was sailing Presquisle Bay and had some problems. I got on the CB radio I had on board and was told by the person I contacted that he was not going to help.

I had some friends that were Hams, and when my Sons and I were looking for a winter hobby in 1986, we decided to get into Ham radio and kill two birds with one stone.

I got the Heath Kit Novice course and worked with Frank Grace, W3NR, now a silent key, and passed my novice exam. I almost fell asleep between the letters on the code test.

My first radio was a Heath Kit HW-100 which I used to listen to W1AW code sessions and later for Novice CW.

The next month I passed my Technician exam and got an Icom IC2AT. I made a 2 meter antenna for the boat and put it on top of the mast 22 feet in the air. The only problem was that the Erie and Cleveland repeaters were on the same frequency and I could bring them both up from the middle of the bay of 100 mw!

About a year later I took the plunge again and got my General. I remember working all night before the exam and being very tired. I took my Son for his novice that day. He had the code down cold but was a little weak on the theory. I thought I'd take the general code test then if he didn't pass his theory, he wouldn't feel bad since Dad didn't pass either.

This time I did fall asleep. I copied 1 minute of code then fell asleep till near the end of the test. Wonder of wonders, I copied it perfectly!

I got the bug again and in 1992 I got my Advanced followed by my Extra. I also got my VE. I am also a member of ARES and RACES

After 36 years in the computer industry I finally retired and now spend my time in Ham Radio and fishing.

My Wife is also A Ham, N3KFP. She is shown here teaching a merrit badge class on Weather.



Timelines
KA3PMW
5/3/86 Passed Novice
6/9/86 Got Restricted Radiotelephone Permit
7/1/86 Passed Technician
1/3/87 Passed General
2/1/92 Passed Advanced
4/18/92 Passed Extra
Member of ARES, RACES, CoCoRaHS County Coordinator, Skywarn Observer and Net Control Operator for Washington and Greene County Skywarn.

N3KFP
8/13/91 Passed Technician and was Issued an advances to HF Technician.
Memberof ARES and RACES and a Skywarn Observer.
AJ3JA
11/8/2013 Passed Technician Exam
7/5/2017 Passed General exam
7/5/2017 Passed Extra exam in same session.
8/15/2017 Applied for vanity call and was granted (Alexander James 3 James Alexander)